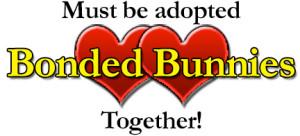 AGE: 2012
WEIGHT: 4lbs-5.5lbs
BREED: Satin Mix
COLOR: Tan, Dark Brown, Lighter Brown
GENDER: Spayed females
LITTER BOX HABITS: Good
NOTES: We love the story of Micki, Alycia and Goldie. Micki gave birth to Alycia in 2012 at BHRR. Shortly thereafter we got a call about a tiny baby bunny who was only a few weeks old and needed a nursing mother. Thankfully, Micki was ready, willing and able and she welcomed Goldie into her newly expanded family. Alycia and Goldie grew up together and while they aren't biological siblings, they are deeply bonded adopted siblings. Mom and girls are never out of sight of one another and regularly are snuggling in a bunny pile where they all bliss roll on top of each other. It's a beautiful story of unconditional love and these three will bring endless warmth, joy and smiles to their forever home.
---
---
Interested in making one of our rabbits part of your family or perhaps have questions? Click here to request information.
Before inquiring about adoption, please review our adoption procedures here.