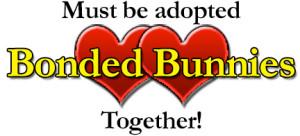 AGE:  Born Feb. 2015
WEIGHT: 7+ lbs
BREED: English Spot
COLOR:  Black & White
GENDER: Female & Male
LITTER BOX HABITS: Needs work
NOTES:  This brother and sister pair are big, smooshy love bugs who do everything together…and when we say everything, we mean ev-er-y-thing! They are curious, friendly, silly and wonderfully expressive. From a litter of seven babies, who came to BHRR without a mom, they defied the odds and not only survived but they thrived. Need some love in your life…maybe this beautiful pair of devoted siblings is for you?!
---
Interested in making one of our rabbits part of your family or perhaps have questions? Click here to request information.
Before inquiring about adoption, please review our adoption procedures here.