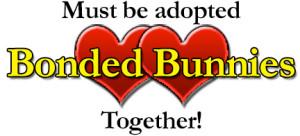 AGE: 2014
WEIGHT:
BREED: Satin
COLOR: Dark and lighter shades of gray
GENDER: Saturday (mom) and Sprocket (son)
LITTER BOX HABITS: Need work
NOTES:
---
Interested in making one of our rabbits part of your family or perhaps have questions? Click here to request information.
Before inquiring about adoption, please review our adoption procedures here.