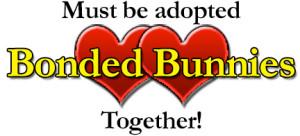 AGE: 2013
WEIGHT: 5lbs
BREED: Satin
COLOR: Black
GENDER: Females
LITTER BOX HABITS: Good
NOTES: Lyssa and Marta, while also being almost identical twins, are two of the closest sisters we've seen. They are extremely loyal to one another constantly grooming and caring for each other. They are very curious girls who love to play, snuggle and live life. Their toys, their food and their love for each other makes them a perfect pair to welcome into your home and heart.
---
Interested in making one of our rabbits part of your family or perhaps have questions? Click here to request information.
Before inquiring about adoption, please review our adoption procedures here.