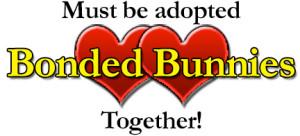 AGE: 2012
WEIGHT: 5lbs each
BREED: Satin mixes
COLOR: Brown w/darker shades of brown
GENDER: Nala (spayed female) / Simba (neutered male)
LITTER BOX HABITS: Good
NOTES: Nala and Simba were born at BHRR after their mom was rescued from a drug house. Ava was a doting mother who took wonderful care of her kids and the three were inseparable. Sadly Ava passed away following complications post-op but the legacy she left behind is reflected in these two loving, adoring, smart and funny souls. Nala is the more curious of the two and has stolen the hearts of so many of our volunteers and our caretaker. Simba is more reserved and content to let his sister handle the introductions before he joins in the fun. You will be hard pressed to find two more perfect bunnies in every way imaginable than Nala and Simba. We know Ava is watching over them from the Bridge and helping ensure their committed, loving and devoted forever family will be along any day now.

---
Interested in making one of our rabbits part of your family or perhaps have questions? Click here to request information.
Before inquiring about adoption, please review our adoption procedures here.