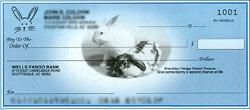 (Sorry if you thought this was a Vet referral page – click here to go there.)
Now you can have your own set of Brambley Hedge Rabbit Rescue checks!
Besides being very snazzy, they are just PERFECT for writing all those big donations to your favorite rabbit rescue (shameless hint).
Checks cost anywhere from $14.95 to $31.95 depending on quantity and type you order. A portion of the check fee goes to Brambley Hedge Rabbit Rescue, so you will be helping out the bunnies while you get one of the necessities of life: CHECKS!
There are two ways to order the checks. You can download the form right here, or phone 800.784.2800.
It's fun, it's easy, and you will help care for some rescued bunnies!