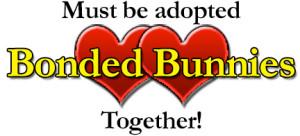 AGE:   2012
WEIGHT: 4lbs
BREED: Angora Lop / Lionhead
COLOR: Black w/gray /Shades of brown
GENDER: Males
LITTER BOX HABITS: Good
NOTES: Chessie and Dublin are deeply devoted brothers who lost their sister, Leelu, about two years ago. Since her passing they have grown even closer and are some of the funniest, happiest and engaging buns you can imagine. Dublin is a binky-king and Chessie is his comic relief. They are separable and truly never out of each other's sight. They have been adopted a few times but due to unfortunate circumstances with those families, Chessie and Dublin were returned to BHRR. We are searching high and low for their PERFECT family….the one that will open their home and their hearts to these incredible buns forever. If any two bunnies deserve to win the adoption lottery, it's Chessie and Dublin.

---
Interested in making one of our rabbits part of your family or perhaps have questions? Click here to request information.
Before inquiring about adoption, please review our adoption procedures here.