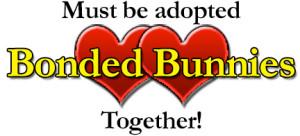 AGE: 2013
WEIGHT: 4lbs each
BREED: Mini Rex
COLOR: Brown / White
GENDER: Spayed females
LITTER BOX HABITS: Good
NOTES: Maya, Mira and Moonglow are part of a litter of eight beautiful Rex babies rescued after they were dumped in a park at only a few weeks of age. All eight thankfully responded well to the care they received at BHRR. Mira (brown) is the "big sister" and she likes to keep her little sisters in line. Moonglow has glaucoma and has had to have an eye removed.
---
Interested in making one of our rabbits part of your family or perhaps have questions? Click here to request information.
Before inquiring about adoption, please review our adoption procedures here.