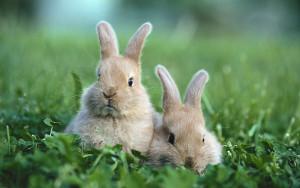 June 14, 2005 – The white and light beige balls of fur look out of place in the desert pasture of a county island surrounded by Gilbert. They should — they never were supposed to be there.
The rabbits are the descendants of three unwanted pets Cyndi Bauer saw someone drop off a couple of years ago in the pasture where she raises horses.
Since then, they've become more than 33 times their original number. About 100 rabbits now roam small pastures near the intersection of Warner and Cooper roads.
Early in the morning and around dusk, they pop up from deep tunnels under irrigation canals to sit in the shade of citrus trees and eat grass or hang out under the hay bales Bauer keeps for her horses. Last week, Bauer recruited her kids and others to catch some of the wild bunnies, as they do from time to time. Sixteen of them went to new homes via a sign at the feed store.
However, little puffballs of white fur hiding in the grass show that bigger efforts are needed to make a dent in the population — new babies show up all the time. The gestation period for rabbits is only about a month and a female can have four to 10 kits per litter. And, they're fertile immediately after they've given birth.
"It's overwhelming," Bauer says.
The burgeoning rabbit population is just one symptom of the overwhelming problem of unwanted animals. Bauer's neighbor rescues pigs abandoned after the potbellied pet craze of the 1990s died down.
Sheep left alone near Tonopah found their way to another nearby property and Bauer herself owns a horse once on a truck to the slaughterhouse. But hardy agricultural animals fare better here than those intended to be house pets.
"Somebody dropped off a guinea pig — it didn't last long," Bauer said. "I think they just see mini-farms out here and think, 'Oh, they'll take care of them, they've got animals.' " Bauer would like about 100 fewer animals. Finding them new homes isn't simple, though. The Arizona Humane Society already is full of unwanted Easter bunnies, said spokeswoman Kim Noetzel, adding that Bauer's situation is common.
"This is just a terrible problem and it happens all the time," Noetzel said. "This is why we urge people not give bunnies as Easter gifts because this is what happens."
Local no-kill shelter, Brambley Hedge Rabbit Rescue in Scottsdale, is at capacity with about 125 adoptable rabbits rescued from euthanasia lists, said president and founder Erika Royal.
However, Royal said the organization could provide traps and volunteers to round up the rabbits. Any bunnies Bauer wanted to keep could be spayed and neutered for $40 to $50. The overflow, however, would go to the county or the Humane Society, where overcrowding would likely mean euthanasia for some.
Bauer says she knows that's probably for the best. "We're farm people, so we understand the life and death of animals," she said.
Euthanizing the bunnies is also more humane than the deaths they face as Gilbert grows. Bauer has already found one that didn't make it across busy Warner Road. "I can just imagine an accident," she added. "People will ask 'What happened?' 'Oh, we swerved to miss a bunny . . . a herd of bunnies.' "
• For information on what to do if you find wild rabbits or to adopt rabbits from Brambley Hedge Rabbit Rescue in Scottsdale, see www.bhrabbitrescue.org or call (480) 443-3990